Litter out of Wildblue Soulsearch At Anadune AW(B) (Fëa) by Anadune High Hopes (Bear) born 16 October 2018

16 October 2018: Given the (unexpected!) size of the litter, some of the puppies may still be available — more information about the litter can be found at the bottom of the page.
Day 1
Birth
Fëa's 9 puppies were again born during the day, between 6:02am and 12:28pm. Photos below in order of appearance. Thanks to Dad for providing his (recently acquired) midwifing skills!
Black & white boy 1 (turquoise)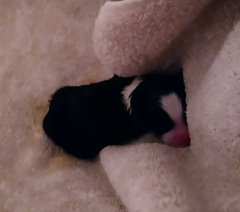 Black & white girl 1 (red)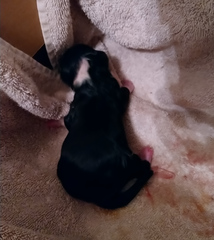 Black & white boy 2 (white)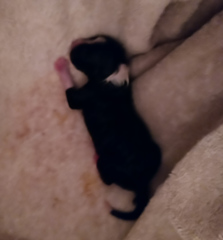 Black & white boy 3 (green)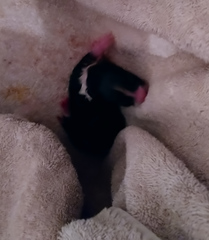 Black & white boy 4 (yellow)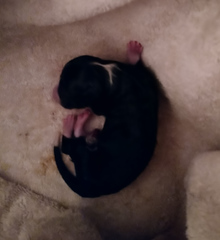 Black & white girl 2 (blue)
Black & white boy 5 (grey)
Black & white girl 3 (purple)
Black & white boy 6 (orange)
Information about the litter
Fëa has given birth to 9 puppies (6 boys and 3 girls) by Bear, Anadune High Hopes — we were planning a Bear litter in a few years' time, however, nature doesn't always cooperate and we weren't able to use our originally chosen stud dog so Becca very kindly allowed us to switch to Bear at the very last minute for this litter. Fëa is a very versatile dog: she is grade 7 in agility and has had a fourth in a champ final, she's won a class at Crufts in conformation and does a little bit of herding too. Bear is from Buffy's litter by Flash, a lovely boy whose agility career is looking very promising (he's also a very nice shape, so may grace the show rings at some point, and we're hoping to try him on sheep in 2019 as he was very interested as a baby!) and he does obedience as well. A video of Bear agility training can be seen here and one of Fëa from the world's muddiest training session in the garden in 2014 is available here.
Both dogs are very nice to live with — having plenty of drive within their discipines, but an off switch at home which means they can settle when needed. We expect their puppies to have a reasonable amount of drive combined with their parents' biddability and would prefer homes where the pups will get to do something, be it agility, obedience, herding, flyball ... The puppies will be normal for CEA, CL, TNS, MDR1 and cobalamin malabsorption (IGS) and unaffected by predisposition to glaucoma (BCG). Both parents have low hip scores, both being 5/4 (clearly, they're a perfect match!). More details about Fëa are available on her page and feel free to contact us if you have any questions about Bear or Fëa, we'd love to tell you more about them — although Bear doesn't live with us, his mum (Buffy) and grandmum (Eowyn) do and love to meet new people when you visit the puppies.